In today's era, everyone is generating data on a large scale whether it is a normal user or an IT organization. With the increase in the data capture and creation, people are more eager for the large storage capacity. Moreover, Data Age is also upcoming. Seagate Announces 16 TB 3.5″ HAMR Hard Drive. Now, the development of large capacity storage product with affordable range can help to digitize the world. Thus, to deal with tons and tons of data storage, Seagate has announced that it has successfully tested the 'World's First Formatted and Fully Functioning 16 TB 3.5-inch HAMR Hard Drive'. A most important concern about this announcement is, the company used advanced HAMR (Heat-Assisted Magnetic Recording) technology, which can more densely pack bits on a disk.
The mass storage device is intended for use in data centers and presently it is in testing state. The company also predicts that its cloud exceeds 20TB before the 2020 year ends. The latest HAMR hard drive has so far met all expected benchmarks including SCSI device common test, power efficiency, server four-corners tests, which focus on read, write, random, sequential and mixed workarounds.
16 TB 3.5 inch HAMR Hard Drive: More in Detail
Additionally, Seagate has developed HAMR technology to achieve an immense growth in the amount of data that can be saved on hard disks. Basically, the HAMR technology uses a small laser diode which is attached to each recording heads to heat a spot on the hard drive. In simpler words, HAMR hard drive uses a laser to heat up small parts of the magnetic material to several hundred degrees for under 1 nanosecond. By heating, the material becomes more receptive to the magnetic effect. Thus, this allows writing too much smaller region and make it possible to achieve higher data densities.
This 16 TB 3.5 inch HAMR hard drive is the largest hard drive in capacity ever developed. When Seagate Announces 16 TB 3.5″ HAMR Hard Drive, this can be considered as a milestone in the history of data storage and technology. Presently, the new HAMR-based version of its Exos drive is targeting enterprise customers.
HAMR Drives Are Plug-and-Play
As per the Jason Feist, Seagate's Senior Director of Enterprise Product Line Management, 'Seagate has begun running early Exos HAMR units via the full set of standard benchmark tests. Moreover, these tests are consistent with the customer's test feedback including standard smartmontools utility, power efficiency, SCSI device command tests, and several four-corners tests.
Now, it is confirmed that Seagate 16 TB 3.5″ HAMR Hard Drive can work like any other plug-and-play enterprise drive in a standard suite of integration benchmarks on the market.
Additionally, the company said that their testing has proved that this hard drive is compatible with the enterprise systems that are being used in today's IT industry. Moreover, running Seagate HAMR-based Exos hard drive in these evaluations or deploying them in customer environment does not require system-level changes.
At the times of these tests, Seagate HAMR read/write heads far exceeded the standard in the industry for reliability and lifetime data transfer capability.
When One can Purchase Seagate 16 TB 3.5 inch HAMR Hard Drive?
Currently, there is no any information about the availability and pricing for this Seagate announced 16 TB 3.5″ HAMR Hard Drive. Anyhow, development of 16 TB 3.5-inch hard drive by the Seagate is the biggest achievement for the company. This hard drive will definitely work well for data centers and organizations that handle data in terabytes.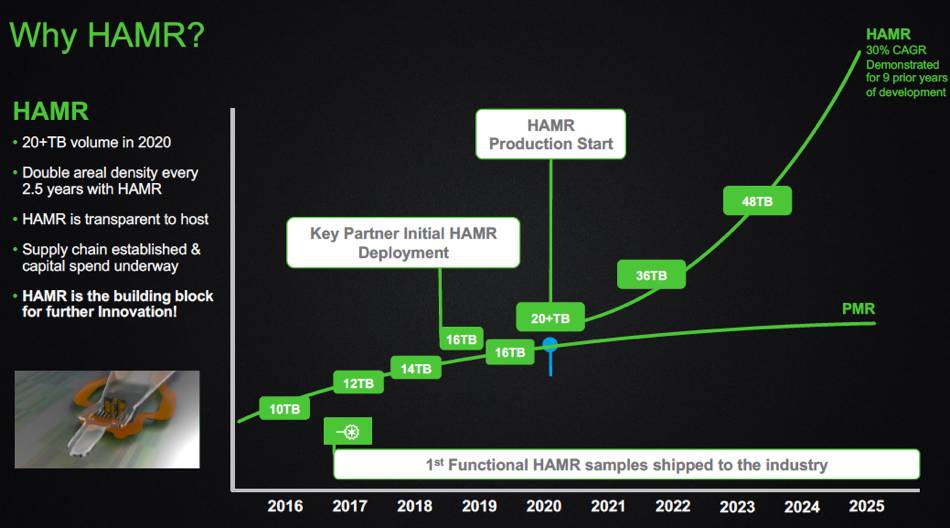 Source: SoylentNews
Final Words
Seagate announced it has achieved another milestone with 16 TB 3.5-inch HAMR hard drive. The capacity of this hard drive is 2 TB higher than the current standard 14 TB drives being produced. Once the Seagate announced 16 TB 3.5″ HAMR Hard Drive is officially launched in the market then it will become easy for data centers and organizations to manage abundant data easily. However, it is said that the consumer market is part of Seagate's vision for HAMR drives.
Read original article here