Most of the people are using Microsoft Outlook for their professional as well as personal chores. Just imagine life would be easier if you are able to make payment for bills or invoices by an email right from the inbox. It is true, recently Microsoft has announced that it is going to bring its digital wallet and mobile payment service that is Microsoft Pay to Outlook.com. The Microsoft Pay integration will permit users to make payments of bills or invoices received by email right from their inbox. This means that user can easily make any bill payment even when he/she is using Outlook. There is no need to redirect to a third-party website, app or service to make a payment. Now, no more series of the window to makes payments.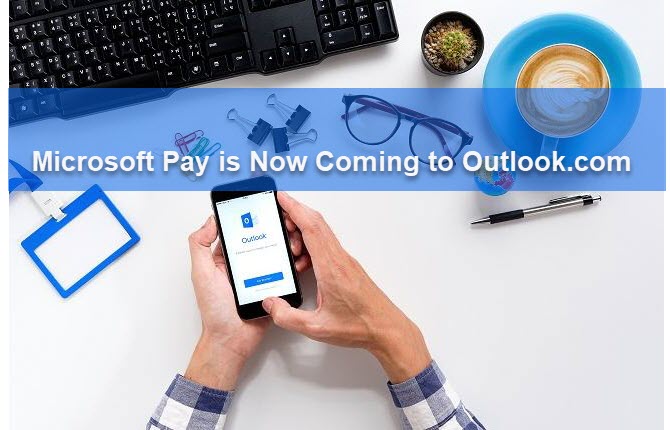 In a press release, Microsoft said that they will introduce payments in Outlook.com to help the user to pay bills and invoices directly from the inbox. With Microsoft Pay Coming to Outlook.com, there is no need to switch to another app or service to make payments.
The service will be supported by a selected group of payment partners and billing and invoice services. The initial payment partners include Stripe and Braintree. On the other hand, billing service like Zuora and invoicing services like FreshBooks, Intuit, Invoice2Go, Sage, Wave, and Xero are among the companies that will be working with new Outlook capability.
Microsoft also announced that this feature will be rolled out to a limited number of Outlook users in the coming few weeks. After that is will be available for a broader range of Outlook users over the next few months.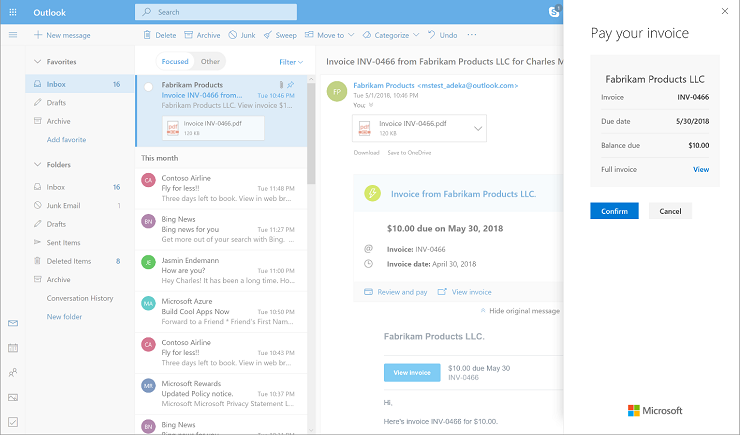 Benefits of Integrating Microsoft Pay with Outlook.com
Simplifies the Payment Process: While paying bills or invoices online, a user has to go through multiple windows one by one. Sometimes, the situation occurs in which the user is on the last window and the payment fails. With Microsoft Pay Coming to Outlook.com, all these situations will eliminate. Then the user will be able to pay bills and invoices directly through the Outlook inbox without switching any windows once Microsoft Pay is integrated within Outlook.
More Secure Payment Process: Microsoft never forgets about the security factor. The integration of Microsoft Pay with Outlook will result in more safe, secure and easy online payment process.
Protect against Phishing or Spoofing Scam: In Outlook, every payment email uses DKIM/SPF standards to migrate against spoofing. If the DKIM/SPF checks fail then the Outlook payment request is discarded and no payment card will be displayed in the user's inbox. If payment card can be seen make sure to check the sender's email address and verify the invoice details before paying.
Pay Bills and Invoices in Outlook.com with Microsoft Pay Service
1. First, open Outlook.com and then you have to select a message that contains an invoice
2. Now, in the message window, you will see a Review and Pay option. Select Review and Pay option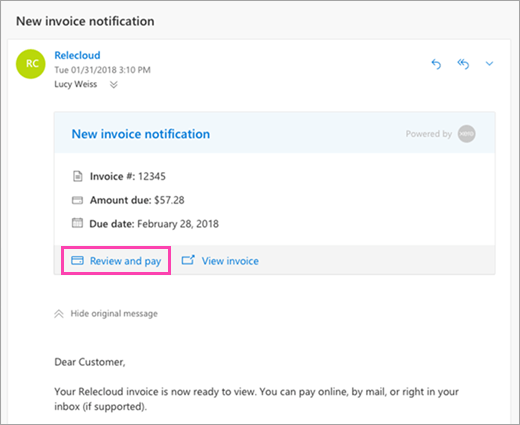 3. After that, a task pane will be opened in Outlook.com where you will be able to view more details about the invoice like amount due, due date, and a link to full invoice also
4. Review and check the invoice details and then select the Continue option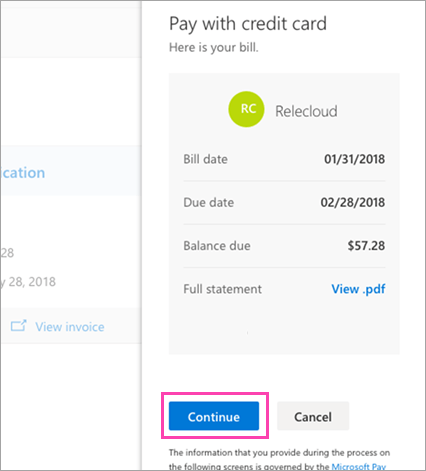 5. The first time Microsoft Pay user, have to enter the payment and billing information and then select Save and Continue option.
6. Now, you have to re-enter the security code and select Pay
In other words, one can say that integration of Microsoft Pay with Outlook will provide support for adaptive cards in Outlook. The new card enables developers to embed context-sensitive actions in messages sent via Teams, Cortana etc. Moreover, the card's design format is available across several Microsoft services.
Conclusion
Microsoft is one of the leading companies in this era of technology. It always focuses on innovating different things to provide high-level ease to users. With this integration of Microsoft Pay with Outlook, it will become easy for Outlook users to pay invoices and bills without switching multiple screens.
Read original article here