Chances To Get Media Player Morpher PLUS FREE

Do you get bored watching the same movies and listening to the same songs over and over, yet you don't want to spend a lot of money on new ones? Now with Media Player Morpher PLUS, you can create unlimited video/audio masterpieces from just ONE original version, as many as you like.
| | |
| --- | --- |
| | WHY THE PLUS VERSION? |
With this tool in hand, you can:
Experience an ultimate morphing experience with 60+ single effects, 50+ special audio effects, and 10+ voice morphing effects newly added.
Produce the best-quality audio masterpieces by adding a fabulous pseudo-surround effect, along with a selection of hundreds of included audio presets, or from a rich list of natural sound effects.
Receive our 24/7 PLUS support services, including technical support, easy retrieval of a lost serial number, free updates for all builds/versions/add-ons, …
More about Media Player Morpher Plus here
| | |
| --- | --- |
| | WANT TO UPGRADE? |
Good news!! Media Player Morpher PLUS will be a FREE upgrade for you, all you need to do is simply login to our Support Center and this program will be there waiting for you to download.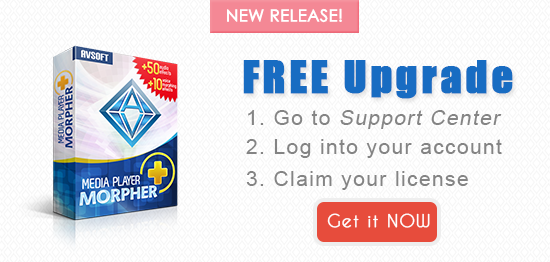 Be sure to take advantage of our FREE upgrade package and release your creativity by using the advanced morphing technologies included in this feature-packed, easy-to-use, versatile program!
Yes, you are a multimedia expert!