What's new?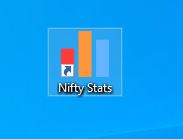 Address bar in browser window
Automatic database backup
New software icon
Chart tooltip shows date range for aggregated periods
Minor bug fixes
How do I install the new version of Nifty Stats?

Open Nifty Stats, in the top menu click on Nifty Stats then click on Update Nifty Stats The self-installation process will automatically install the latest version of Nifty Stats.